Stepping Stones Pre-School is a secure, happy and stimulating environment for 3 to 5 year old children. We are a committee run group, based in a church hall in the Oldfield Park residential area of Bath. The pre-school was registered in 1994.
We follow the 'Early Year Foundation Stage' curriculum and are inspected regularly by OFSTED. Here's the latest Stepping Stones Pre-School OFSTED Report.
Stepping Stones Pre-School is open from 9.30 am – 12.30pm on Monday – Friday during term time. We are open until 2.30pm on Mondays, and 1.30pm on Thursdays where children bring a packed lunch. Here's our full session timetable.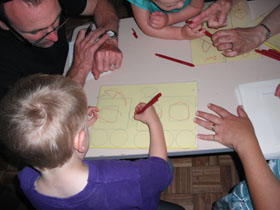 Membership of the Early Years Partnership enables us to accept funding for your children. The Early Years Development and Childcare Partnership will fund all children for the first 15 hours from the beginning of the next term after their 3rd birthday. Find our more about Stepping Stone Pre-School fees.
The pre-school accepts a maximum of 24 children per session, with the adult:child ratio of 1:6. We have a highly qualified staff comprising of 4 dedicated members. Staff are involved in regular training sessions to update their skills. There is always a trained first aider on site.
---
Upcoming Events
Parent's stay and play session – Tuesday 3rd December for ½ hour at 9.30. Dagmar who works for the Library service will be reading stories and giving out Book start packs.
Why not stay after the Library Service session on Tuesday 3rd December for a coffee and a chat, we will be preparing for the Christmas Craft afternoon.
Pre-school Christmas Craft afternoon Friday 6th December 3.30 – 5.30pm.
Church Christmas Fair Friday 13th December 4.00 – 8.00pm.
End of term is looming. Our last day is Tuesday 17th December.
---