Stepping Stones Pre-School is a registered charity (Registered Charity number 1083646). We do receive Government funding which goes towards the hall rent, heating bills and staff wages, but we also rely on donations to help pay for these ongoing running costs. Fundraising enables us to buy new resources and equipment for the children.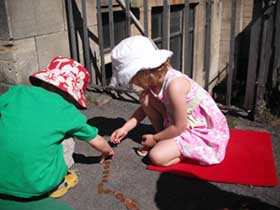 We recognise that fundraising events enable the children, younger and older siblings, as well as family and friends to become involved in our pre-school community. Recent events include:
School holiday craft sessions
Easter duck race
Christmas fair
Coin trail
Quiz night
Table top sale
Sponsored bounce
If you have any fundraising suggestions or are a local business who would like to make a donation in return for free advertising on our newsletters and raffle tickets, please contact the pre-school. Please look out for our committee meeting dates and come along if you think that you could offer any fundraising ideas or experience, or speak to a member of staff during session times.
Shop Online and Raise Funds for Stepping Stones
You can shop with major retailers such as Early Learning Centre, Boots, Amazon, eBay or Next via this link:     http://www.easyfundraising.org.uk/ and we get a small donation! Just register to use the site and add "Stepping Stones Pre-School Bath" as the cause you would like to support.
Recycle Your Mobile Phones, Printer Cartridges, CDs, and DVDs
Recycle Your Mobile Phones, Printer Cartridges (Ink and Toner not Epson), CD's, and DVD's (no promotional ones and need to have a barcode) by leaving in our collection box at pre-school. We can raise funds for vital resources and help protect the environment via recycling rather than these items ending up in landfill. For more information on the scheme we are involved in see Recycool: http://www.recycool.org/
Donate via Your Mobile Phone
You can donate money to help us raise funds for New Toys and Equipment by texting. We are registered with Vodafones JustTextGiving http://www.justgiving.com/justtextgiving
Just text STEP 21 £1, £2, £3, £5 or £10 to 70070.
E.g.  by texting     STEP 21 £2    to 70070 you would donate £2 to us
"Texts are charged at your mobile phone operator's standard rate. The charity will receive 100% of your donation. You must be 16 or over and please ask the bill payer's permission. For full terms and conditions and more information, please visit www.justgiving.com/info/terms-of-service."
Many thanks…
We are very grateful to the following organisations who have kindly donated to our Easter craft mornings:
Thank you to everyone who helped us raise a brilliant £603.00.
We are extremely grateful and privileged to have received grants and, or donations from:
Quartet Community Foundation, Bath Half Marathon
Round table
Victoria Pub
Rotork