Stepping Stones has strong home/pre-school links and we actively encourage parents to come in by means of a voluntary parent' rota, committee meetings and less formal events for parents. We have also introduced open days which involve all parents and carers prior to children starting at Stepping Stones.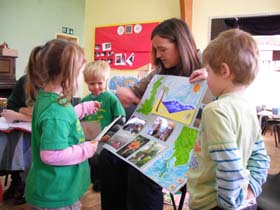 We recognise that parents are their children's first and most important educators, and feel that if we can develop strong links this will enable the children to settle happily and achieve their maximum potential.
Staff are available at the beginning and end of each session, and are always willing to talk for longer by arrangement. Strict confidentiality is adhered to at all times.